Are you looking to save money at Disneyland? One of the easiest ways to do that is by staying at Airbnbs near Disneyland instead of a hotel. Scroll for my top picks!
This post on the best Airbnbs near Disneyland contains affiliate links which means if you purchase something from one of my affiliate links, I may earn a small commission that goes back into maintaining this blog.
Hotels and attractions in California are expensive, especially near Disneyland. A hotel in Anaheim costs $197/night on average, and the least expensive Disneyland Resort hotel starts at $339/night!
People who want to be close to the theme parks would benefit from staying here, but those who'd rather save money should look elsewhere for accommodations.
Airbnbs are great alternatives to Disneyland Good Neighbor hotels and Disneyland On-Site hotels. These accommodations sit on unique, comfortable properties owned by Anaheim locals.
Each Airbnb host offers different amenities, including WiFi, pools, and things you might not have thought of. Of course, the best reason to stay at one of these rentals is how much you'll save.
While the average nightly cost of an Airbnb in Anaheim is the same as a hotel, you can find awesome accommodations for as little as $30/night. The pricier rentals tend to offer more amenities than a typical hotel would, giving you a luxury experience for a fraction of the cost.
These are some of the best Airbnbs near Disneyland based on price and amenities.
Airbnb properties can house couples, families, and large groups, but not every rental is for everyone. Evaluate each property's amenities to make sure it's a good fit for your family or group.
When staying at an Airbnb rental, remember that you're staying in someone's home. Unless you choose an Airbnb Luxe property (there aren't any near Anaheim), you'll need to clean up after your family before you check out.
You'll also need to follow any rules set by your rental's host, like volume guidelines and restrictions on outside guests. You can find each host's rules on their rental's page – read them before booking your Airbnb!
3 Amazing Airbnbs near Disneyland for Families
This modern, spacious apartment is great for vacationing families. You'll have the entire 2-bedroom apartment to yourself, along with free access to the complex's shared amenities.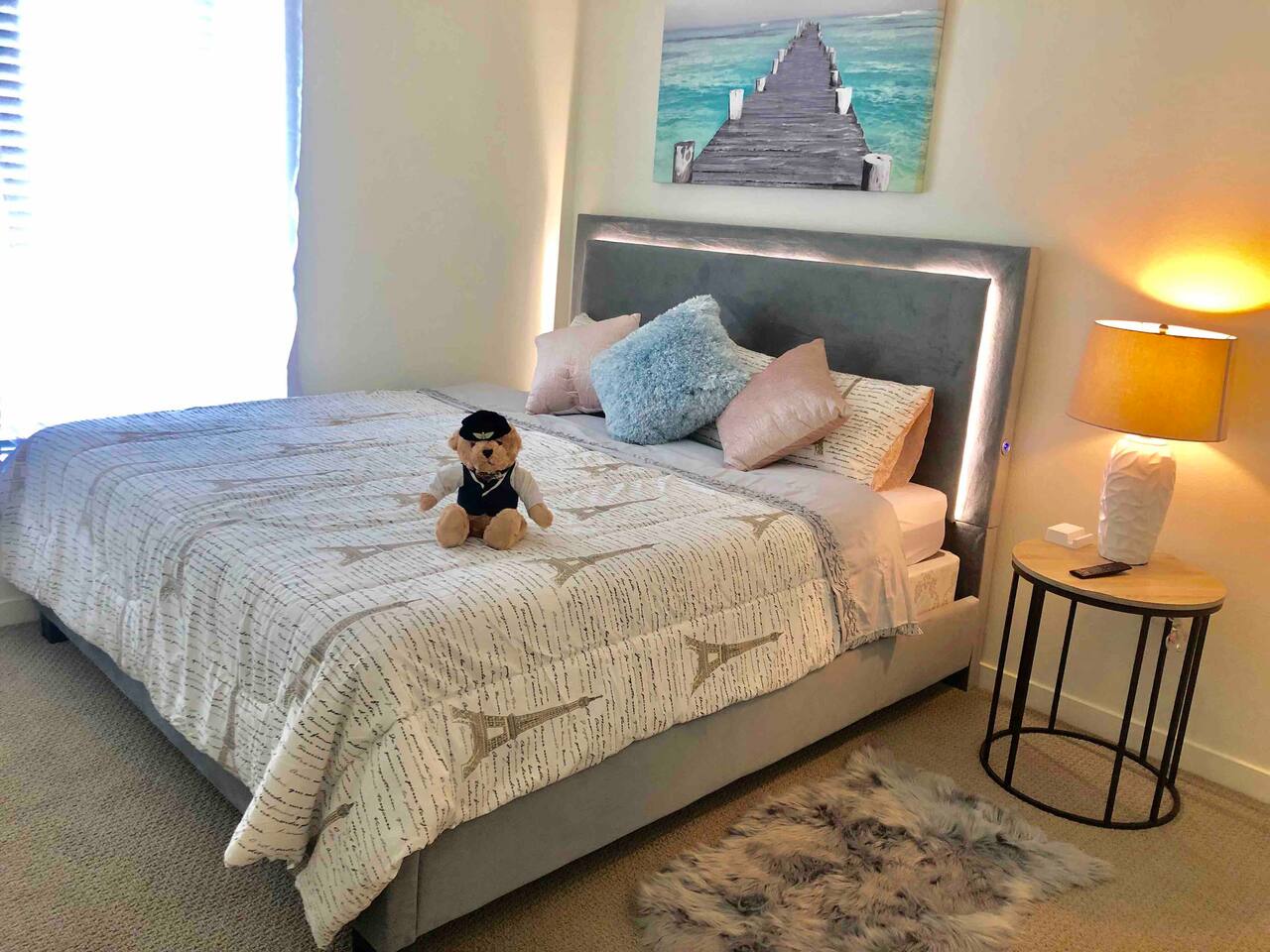 The rental includes a free garage parking space, a washer and dryer in the unit, a fully equipped kitchen, and a Smart HDTV for your enjoyment.
Guests with mobility issues will appreciate the rental's wide entrances and hallways, elevator, accessible toilet and shower, and not having to navigate steps. At this rental, you won't have to pay more for wider spaces and homey amenities!
Those who previously stayed in this apartment have a lot to say about it. Reviewers rave about the 24-hour rooftop gym, the heated swimming pool, hot tub, fire pit, and other community spaces. You can expect to spend just $5-7 on an Uber ride to Disneyland, and you can even see the fireworks from your rental!
This apartment near Disneyland can house up to 5 of your guests for just $69/night. The rental books quickly, so plan your visit well in advance!
Airbnb Plus rentals are hand-picked for their quality, amenities, and superior hosts. Your party of (up to) 8 can stay at one of these comfortable rentals in Fullerton, just 10 minutes outside of Anaheim.
Since there are 2 bedrooms with a king-size bed in each one, the rental won't be too large for a party of 4. This family-friendly property includes fun amenities, both private and shared.
You'll have shared access to a gym, hot tub, and outdoor pool, and you'll have a laundry machine, Smart TV, and children's toys to yourself.
What makes this Airbnb rental worthy of "Plus" status? Let's start with the décor. The entire unit is tastefully decorated, with white walls and soft accents. While your host won't be on the premises, previous guests say he's very responsive and ready to assist if needed.
Parents can rest assured that their children will be safe on the property – they'll be provided with a travel crib, outlet covers, and a baby bath.
Lastly, while this rental is not suitable for parties, it's great for large families and groups of friends. After a long night out, you'll all have a safe place to come home to.
An accommodation this nice doesn't have to break the bank. For just $94/night, you and 7 others can enjoy all that this rental home near Disneyland has to offer. If you're traveling with a party of adults, split the cost to bring it down even more!
This Airbnb Plus accommodation is geared towards kids! Up to 9 guests can stay in this 3-bedroom, 2-bathroom home, and they won't be crammed into just a couple of beds – there are 7.
Once your family is done swimming in the private pool and hot tub, grill some dinner to eat in a rustic dining room.
If your kids get bored of the game console in the living room, they can head to the garage to play billiards or shoot some hoops. This rental just may offer the most fun your kids will experience outside of the Disneyland parks!
At this family-friendly rental, you'll have access to plenty of comfortable amenities like on-site laundry, WiFi, and an indoor fireplace.
While pool toys are provided to make swimming more fun, you'll also be given items to make the property safer. The property comes with a pool cover, carbon monoxide detector, smoke detector, and a crib for infants.
If you don't want your kids sleeping in the bunk bed, they can crash on the double beds in that room, the queen-size bed in another room, or the king-size bed in the master bedroom (though you'll probably want it instead). Each room has a Smart TV for your enjoyment.
While this Disneyland rental house costs $203/night, it offers more privacy than a Disneyland Resort hotel and is just as fun for families. It's also just a few short blocks from Downtown Disney and Disney California Adventure Park – you might as well walk there!
Since these rentals are oftentimes the host's second home, you can expect all of the comforts of home at any accommodation you choose.
These rentals go above and beyond what you'd find in a more basic rental – other Airbnb options include booking a room in someone's home, hotels that list on the site, and accommodations where you share a space with other guests.
While those options work well for budget travelers, you don't need to stay somewhere uncomfortable to save money on your Disneyland vacation. When you stay at a highly-rated, amenity-filled Airbnb rental, you'll get more bang for your buck.
Book your favorite Airbnbs near Disneyland a few months before your trip – these high-value rentals are no secret!